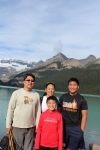 Eric Shin
-
Pastor
E:
This email address is being protected from spambots. You need JavaScript enabled to view it.
P: 9529370063
275 Lake Dr. E.
Chanhassen, Minnesota 55317
---
Pastor Eric graduated from U of MN, and Bethel/United Theological Seminary. He is a Minnesotan. 
He is passionate about Recovery ministry and loves seeing how God is transforming lives. 
He has served as the youth and English ministry pastor at the Korean Presbyterian Church of MN, MN Korean Evangelical UMC, and at First United Church of Little Falls.  
He served on the board of Oasis Central MN and Salvation Army of Morrison County to address homelessness and poverty.
He has worked to start up Celebrate Recovery, invite and support New Pathways and Crystal Meth Anonymous (CMA) at church.
Pastor Eric has led short term mission trips to the Pine Ridge Indian reservation,  Yucatan (Mexico) and Haiti. 
He enjoys camping, hiking, golfing with friends and strangers, working out with his wife, Grace, and trying new things.
He is married to his best friend, Grace Song, and has four wonderful children, Hannah (18), Samuel (17), Jacob (13), David (11) + dog, Dixie.
Please ask him what his favorite Biblical passage is when you see him. Favorite Passage John 3:16-17.